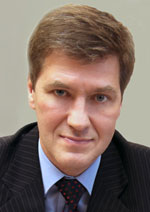 Nikiforov
Vladimir O.
D.Sc., Prof.
ANALYSIS OF NOTICEABLE RADAR STATIONS SIGNALS BASED ON COMPLEX TIME-FREQUENCY DISTRIBUTION METHOD
A. Korotkov
Read the full article

';
Abstract
Applying only traditional time-frequency analysis (TFA) techniques, based on Fourier transform, is often not efficient for analysis of noticeable radar stations signals. The article shows that the best result can be reached only by applying the complex method of TFA, based on three different TFA methods. It will give us the possibility to take over the disadvantages of one method by the advantages of the others.
Keywords:
time-frequency analysis, radar signals, wavelet analysis, Wigner transform.
This work is licensed under a
Creative Commons Attribution-NonCommercial 4.0 International License