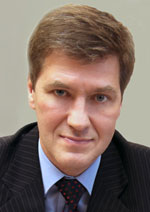 Nikiforov
Vladimir O.
D.Sc., Prof.
FLUORESCENCE LIFETIME OF CdSe/ZnS QUANTUM DOTS AND THEIR COMPLEXES WITH ORGANIC MOLECULES IN THIN POLYMER FILMS
A. V. Baranov, A. O. Orlova, E. V. Ushakova
Read the full article

';
Abstract
The influence of laser light on fluorescence intensity and lifetime of CdSe/ZnS QDs and their complexes with organic molecules (PAN) in polymer matrix is discussed. The process of photo-induced dissociation of assemblies and self-fluorescence of QDs can occur in these films. Fluorescence intensity and lifetime dependence on laser power and laser energy are investigated. Possible application of QD/PAN assemblies as fluorescence nano-sensor is considered.
Keywords:
CdSe/ZnS quantum dots, QD- organic molecule assemblies, photo-induced dissociation, fluorescence sensor
This work is licensed under a
Creative Commons Attribution-NonCommercial 4.0 International License