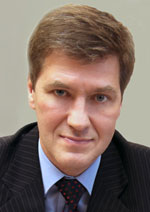 Nikiforov
Vladimir O.
D.Sc., Prof.
TECHNOLOGICAL IMPERFECTIONS OF FORCE ROD GEOMETRICAL PARAMETERS FOR PANDA OPTICAL FIBERS PRODUCTION
N. Semenov, N. Trufanov, A. Adamov
Read the full article

';
Abstract
The paper deals with the dependence in radial dimensions changes of the workpieces on the angular coordinate based on experimental data about the geometry of the cross-sections of force rods batch for the production of anisotropic Panda-type optical fibers. An algorithm of geometrical parameters statistical processing is described, which gives the possibility to find the similarity in the geometry of the cross-sections of different force rods, and reveal the characteristic shape of the crosssection for all the samples. The algorithm contains the shift of points for dependence changes in radial dimensions of the workpieces on the angular coordinate in order to find curves with maximum correlation coefficient. Afterwards, the distribution of the radius values for each angular coordinate is found basing on the obtained curves. It is demonstrated that in case of the force rods production with variable amount of alloying dopes on the radius via the MCVD method, it is impossible to get ideally round shape of the cross-section. At the same time, the biggest deviation from the round profile (up to 10%) is fixed on the border between the alloyed core of the force rod and the external layer of the pure quartz, whereas the deviations on other borderlines are negligible (a tenth hundredth of a percent). It is determined that within this technological process the non-circular cross-sectional shape of alloyed core is realized, which can be called "faceting" for convenience (with three "faces" of different length). The following long control of the cross-sectional shape of the force rods has proved the results recurrence.
Keywords:
force rod, Panda optical fiber, technological geometry scattering, statistical processing of measurement results
References
1. Guan R., Zhu F., Gan Z., Huang D., Liu S. Stress birefringence analysis of polarization maintaining optical fibers // Optical Fiber Technology. 2005. V. 11. N 3. P. 240–254.
2. Окоси Т., Окамото К., Оцу М., Нисихара Х., Каюма К., Хататэ К. Волоконно-оптические датчики: Пер. с яп. Л.: Энергоатомиздат, 1990. 256 с.
3. Гроднев И.И., Ларин Ю.Т., Теумин И.И. Оптические кабели: конструкции, характеристики, производ- ство и применение. 2-е изд., перераб. и доп. М.: Энергоатомиздат, 1991. 264 с.
4. Бутусов М.М., Галкин С.Л., Оробинский С.П., Пал Б.П. Волоконная оптика и приборостроение. Л.: Машиностроение, 1987. 328 с. 5. Мазурин О.В., Стрельцина М.В., Швайко-Швайковская Т.П. Свойства стекол и стеклообразующих расплавов: Справочник. Л.: Наука, 1973. Т. 1. 444 c.
6. Леко В.К., Мазурин О.В. Свойства кварцевого стекла. Л.: Наука, 1985. 166 с.
7. Shelby J.E. Introduction to glass science and technology. 2nd ed. Cambridge: The Royal Society of Chemistry, 2005. 291 p.
8. Бурков В.Д., Иванов Г.А. Физико-технологические основы волоконно-оптической техники: Учеб. пособие. М.: ГОУ ВПО МГУЛ, 2007. 222 с.
9. Trufanov A.N., Smetannikov O.Yu., Trufanov N.A. Numerical analysis of residual stresses in preform of stress applying part for PANDA-type polarization maintaining optical fibers // Optical Fiber Technology. 2010. V. 16. N 3. P. 156–161.
10. Сметанников О.Ю., Труфанов Н.А. Технологические и остаточные напряжения в неоднородном стек- лующемся цилиндрическом стержне // Механика композиционных материалов и конструкций. 2009. № 2. С. 126–140.
11. Труфанов Н.А., Сметанников О.Ю., Труфанов А.Н. Модели формирования полей технологических и остаточных напряжений в условиях релаксационного перехода (стеклования) // Вестник Нижегород- ского университета им. Н.И.Лобачевского. 2011. № 4 (5). С. 2534–2536.
12. Пугачев В.С. Теория вероятностей и математическая статистика. М.: ФИЗМАТЛИТ, 2002. 91 с.
13. Чек К., Джиблин П., Ирвинг А. Matlab в математических исследованиях: Пер. с англ. М.: Мир, 2001. 317 с.
14. Мартынов Н.Н., Иванов А.П. Matlab 5.x. Вычисления, визуализация, программирование. М.: КУДИЦ- ОБРАЗ, 2000. 47 с.
15. Вентцель Е.С. Теория вероятностей: Учебник для вузов. 7-е изд. М.: Высш. шк., 2001. 575 с.
This work is licensed under a
Creative Commons Attribution-NonCommercial 4.0 International License