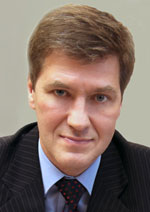 Nikiforov
Vladimir O.
D.Sc., Prof.
ON THE EFFECT OF ADAPTIVE USER INTERFACES ON RELIABILITY AND EFFICIENCY OF THE AUTOMATED SYSTEMS
Y. Furtat
Read the full article

';
Abstract
In modern automated systems users often have to face the information overload problem because of ever increasing volumes of information with short time processing requirements. Working in such conditions affects the system operator's work quality and the systems reliability. One possible approach to solving the information overload problem is to create personalized interfaces that take into account the user's information management particularities. System operator's features, which determine the shape and pace of information representation preferred by him, form the user's cognitive portrait. To determine the values of portrait characteristics professional testing with the assistance of psychologists or operational testing at the user's workplace is performed. The second option is more preferable for use in automated systems, since it has no issue with lack of psychologists. Cognitive portrait is then built as a result of user interaction with the software diagnostic tools that are based on the cognitive psychology methods. The effect of personalized user interface application in an automated system can be estimated by quantifying how the reduction in user's response time to critical events affects the system reliability and efficiency. For this purpose, the formulae of reliability theory for complex automated systems are used, showing the dependence between the system reliability and user's response time to critical event.
Keywords:
automated system, user interface, personalization, interface adaptation, cognitive portrait
References
1. Турзин П.С., Пономаренко В.А., Рысакова-Ромашкан С.Л. Уровни понимания информации и структу- ра коммуникативного акта // Психологический журнал. 1992. Т. 13. № 1. С. 30–39.
2. Солсо Р. Когнитивная психология. 6-е изд. СПб: Питер, 2006. 589 с.
3. Якиманская И.С. Принципы построения образовательных программ и личностное развитие учащихся // Вопросы психологии. 1999. Т. 13. № 3. С. 39–47.
4. Гальскова Н.Д. Современная методика обучения иностранным языкам: Пособие для учителя. М.: АРКТИ, 2004. 192 с.
5. Ляховицкий М.В. Методика преподавания иностранных языков: Методическое пособие. М.: Дрофа, 2006. 369 с.
6. Верлань А.Ф., Сопель М.Ф., Фуртат Ю.О. Особенности оперативного тестирования на рабочем месте операторов систем поддержки принятия решений (СППР) // Математичне та комп'ютерне моделю- вання. Сер. Технічні науки. 2010. В. 3. С. 37–45.
7. Немов Р.С. Психология: Учебник для студентов высш. пед. учеб. заведений: В 3-х кн. 4-е изд. М.: Гуманитарный издательский центр «ВЛАДОС», 2003. Кн. 1. 688 с.
This work is licensed under a
Creative Commons Attribution-NonCommercial 4.0 International License