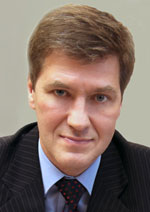 Nikiforov
Vladimir O.
D.Sc., Prof.
EQUATIONS OF RADIATION TRANSFER IN INFRARED TOMOGRAPHY IN THE CASE OF ACTIVE-PASSIVE DIAGNOSIS AND SWEEPING SCANNING
A. Makarova
Read the full article

';
Abstract
Sweeping scanning scheme of a hot gas in the task of infrared tomography is formulated. Two diagnosis regimes are used: the active one (ON) – with included source and the passive one (OFF) – without it. Two integral equations are deduced concerning the absorption coefficient k and the Planck function B of a medium (by which it is possible to calculate the temperature profile of a medium T).
Keywords:
IR tomography, integral equations of radiation transfer, active and passive diagnosis regimes, sweeping scanning, absorption coefficient, temperature profile
References
1. Л. Сизиков В.С. Инфракрасная томография горячего газа: математическая модель активно-пассивной диагностики // Научно-технический вестник информационных технологий, механики и оптики. 2013. № 6 (88). С. 3–17.
This work is licensed under a
Creative Commons Attribution-NonCommercial 4.0 International License