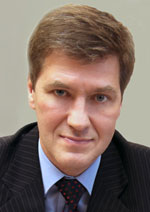 Nikiforov
Vladimir O.
D.Sc., Prof.
DEVELOPMENT AND APPLICATION OF COMPLEX AUTOMATED METHODS FOR KINEMATIC, DYNAMIC AND STRENGTH ANALYSIS TO SOLVE ENGINEERING PROBLEMS
A. Terletskaya, N. Raits, I. Limareva, E. Fomicheva, E. Murykh
Read the full article

';
Abstract
Application possibility of modern CAE-systems (ADAMS, ANSYS) for carrying out kinematic, dynamic and strength analyses is considered. The developed technique of the complex automated analysis allows carrying out the analysis of difficult mechanisms with the big accuracy in shorter terms. Researches in the field of spatial mechanisms, occurrence of contact pressure, and destruction mechanics of welded designs are made on the basis of the developed technique.
Keywords:
computer-aided analysis, modeling, mechanical systems, contact stresses.
This work is licensed under a
Creative Commons Attribution-NonCommercial 4.0 International License