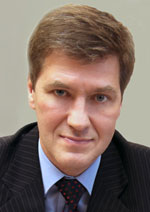 Nikiforov
Vladimir O.
D.Sc., Prof.
MULTIUNIT DETECTORS ON THE BASIS OF LEAD SELENIDE FOR THE SPECTRUM AREA OF 2 - 5 MICRONS
N. Tropina
Read the full article

';
Abstract
Research results of photo-electric characteristics of the multiunit photovoltaic detectors received and developed in scientific research institute "Giricond" on the basis of polycrystalline PbSe films and firm solutions on its basis are presented for the first time in the article. Workability of such detectors with narrow-band wedge interferention filters as a photosensitive element in new generation spectral-analytical equipment is considered. Calculation of the multiunit detector sensitive element optimum size for restoration without distortions of analyzed radiation spectrum is given.
Keywords:
lead selenide, multiunit detector, the spectral analysis, wedge interferention filter
This work is licensed under a
Creative Commons Attribution-NonCommercial 4.0 International License