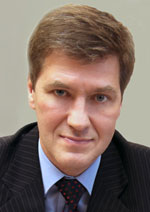 Nikiforov
Vladimir O.
D.Sc., Prof.
DISPERSIVE ALUMINIUM FILLING MATERIAL INFLUENCE ON THE POLYPROPYLENE STRUCTURE AND PROPERTIES
E. Fomicheva, D. Temnov, A. V. Smirnov, B. Fedorov
Read the full article

';
Abstract
Electret properties of composite polymer materials on the basis of polypropylene were investigated. Investigations were done by methods of thermostimulated and isothermal relaxation of potential and X-ray diffraction analysis. It is shown that aluminium powder adding in pure polymer improves electret stability of original polymer. By a low-angled X-ray dispersion method it was shown that aluminium surface possesses clearly defined fractal properties. Fractal dimensions values indicate that aluminium surface fractions are rough.
Keywords:
electret, polypropylene, composite materials, potential relaxation, aluminium oxide, low-angled Xray dispersion, fractals, fractal properties of surfaces
This work is licensed under a
Creative Commons Attribution-NonCommercial 4.0 International License