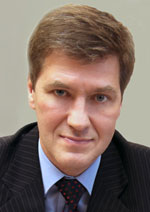 Nikiforov
Vladimir O.
D.Sc., Prof.
STRESS STATE STUDY FOR PARTS OF ALUMINIUM-MAGNESIUM AND ALUMINIUM WROUGHT ALLOYS AT ROTARY SPINNING
D. B. Leonov, S. D. Vasilkov, A. Y. Ivanov
Read the full article

';
Article in
Russian
Abstract
The paper deals with the problems of rotary spinning of pipe or sheet workpieces made of aluminium-magnesium and aluminium wrought alloys. The need to control depth distribution of internal stresses in the workpiece surface layer in the rotary spinning process is determined. An Al-Mg5 aluminum alloy part is researched, which is obtained after 3 - stage rotary spinning. By the use of non-destructive resistance electric contact method, measurements and analysis of the stressed state for the workpieces after each stage of rotary spinning are made. According to the experiment planning theory, research of the influence of processing and thermal treatment modes on the levels of residual stresses σ in the workpieces material is conducted. The value of the residual stresses is assumed as an optimization parameter, and the technological modes of spinning and the modes of the thermal treatment applied between the rotary spinning stages - as factors of the process. Statistical estimation is made, which makes it possible to obtain an adequate mathematical model (estimated by the Fisher's criterion) describing the relation between the optimization parameter and the optimization factors. Technological processing modes with the lowest level of residual stresses in the surface layer of the researched samples and the optimal depth distribution of residual stresses in the workpiece surface layer are obtained. Developed method is applicable in all operating conditions for parts manufacturing of different geometry and different materials.
Keywords:
residual stresses, rotary spinning, nondestructive resistance electric-contact method, experiment planning theory
References
1. Yakovlev S.P., Tregubov V.I., Jakovlev S.S. Izmenenie mekhanicheskikh svoistv goryachekatannykh trub iz stali 12KhZGNMFBA pri rotatsionnoi vytyazhke [Changes in the mechanical properties of hot-rolled pipes of12KhZGNMFBA steel atrotary drawing]. IzvestiyaTul'skogogosudarstvennogouniversiteta. Tekhnicheskienauki, 2010, no. 2-2, p. 3–11.
2. Dudka D.V., Tregubov V.I. Vliyanie tekhnologicheskikh parametrov na obrazovanie naplyva pri rotatsionnoi vytyazhke osesimmetrichnykh detalei [Influence of the technological parameters on the buildup generation in the rotary drawing of axisymmetric details process]. Izvestiya Tul'skogo gosudarstvennogo universiteta. Tekhnicheskie nauki, 2011, no. 1, pp. 3–13.
3. Greditor M.A. Davil'nye raboty i rotatsionnoe vydavlivanie [Squeezing and rotational extrusion]. Moscow, MashinostroeniePubl., 1971, 239 p.
4. Dobrovolskiy V.I., Kulikov A.D., Burlakov I.A. Analiz raspredeleniya deformatsii pri rotatsionnoi vytyazhke [Analysis of deformation distribution at a rotary drawing]. Nauchnye trudy (Vestnik MATI), 2010, no. 17 (89), pp. 167–171.
5. Ivanov A.Y., Leonov D.B. Analysis of the methods for control and measurement of residual stress.Journal of the Technical University - Sofia, Plovdiv branch, 2012, vol. 17, pp. 13–19.
6. Mrochek Zh.A., Makarevich S.S., Kozhuro L.M. et.al. Ostatochnye napryazheniya [Residual stresses]. Minsk, Tekhnoprint, 2003, 352 p.
7. Kraus I., Trofimov V.V. Rentgenová tenzometrie.Praha, Academia, 1988, 248 p.
8. Handbook of residual stress and deformation of steel/ Ed. G. Totten, M. Howes, T. Inoue Ohio, ASM International, 2002, 550 p.
9. ValetovV.A., Vasil'kovS.D., Sisyukov A.N., YulmetovaO.S. Metodikaissledovaniyakharakteristikpoverkhnostnogosloyadetaleipriborov[Technique to study the characteristics of the surface layer in instrument parts]. St. Petersburg, NRUITMO Publ., 2010, 92 p.
10. Vasil'kovS.D., AleksandrovA.S., Afanas'ev I.V.Opredelenie ostatochnykh napryazhenii v poverkhnostnom sloe detalei iz alyuminievogo splava posle mekhanicheskoi obrabotki [Determinationofresidualstressesinthesurfacelayerofaluminumalloypartsaftermachining]. Instrument i tekhnologii, 2010, no. 27, pp. 26–29.
11. GOST 21631-76. Listy iz alyuminiya i alyuminievykh splavov[State Standard 21631-76. Sheets of aluminium and aluminium alloys. Specifications]. Moscow, Izdatel'stvo standartov Publ., 1976, 28 p.
12. RDMU 109-77. Metodika vybora i optimizatsii kontroliruemykh parametrov tekhnologicheskikh protsessov[Guidelines 109-77. Methodology for the selection and optimization of process parameters controlled]. Moscow, Izdatel'stvostandartovPubl., 1978, 48 p.
13. Leonov D., Ivanov A. Kontrolnaostat"chnitenaprezheniyaprispiningovanenadetailiotaluminievisplavi. Proc. of«Yubileina nauchna konferentsiya po povod 10 godini ot s"zdavaneto na NVU». Veliko T"rnovo,2012, vol.7, pp. 120–126.
14. Ivanov A.Y., Leonov D.B. Tekhnologicheskie metody obespecheniya kachestva izdeliya [Technological methods of product quality guarantee]. Scientific and Technical Journal of Information Technologies, Mechanics and Optics, 2011, no. 5 (75), pp. 111–114.
15. GOST 1497-84. Metally. Metody ispytanii na rastyazhenie[State Standard 1497-84. Metals. Methods of tension test]. Moscow, Izdatel'stvo standartov Publ., 1984, 24 p.
This work is licensed under a
Creative Commons Attribution-NonCommercial 4.0 International License