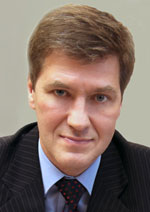 Nikiforov
Vladimir O.
D.Sc., Prof.
Naumov Igor A.
Work place: "Research and Design Institute on Development and Exploitation of Fish Fleet", JSC, Saint Petersburg, 197022, Russian Federation
Post: scientific researcher
Degree: PhD
E-mail: victoria.ter1601@gmail.com

Sibirtsev V. S., Krasnikova L. V., , Stroev S. A., Naumov I. A., Olekhnovich R. O., Tereschenko V. F., Shabanova E. M., Al-Khatib M.
NEW BIOTESTING METHOD WITH THE APPLICATION OF MODERN IMPEDANCE TECHNOLOGIES
The article was published in issue 2, volume 15, 2015