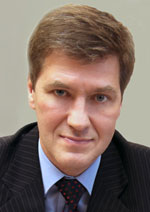 Nikiforov
Vladimir O.
D.Sc., Prof.
Lipp Vladimir P
Work place: University of Kassel, Kassel, 34109, Germany; Technical University of Kaiserslautern and OPTIMAS research center, Kaiserslautern, 67653, Germany
Post: postgraduate
E-mail: v.p.lipp@gmail.com

Ivanov D. S., Lipp V. P., Blumenstein A., Veiko V. P., Yakovlev Y. B., Roddatis V. V., Carcia M. E., Rethfeld B., Ihlemann J., Simon P.
ANALYSIS OF PERIODIC NANOSTRUCTURES FORMATION ON A GOLD SURFACE UNDER EXPOSURE TO ULTRASHORT LASER PULSES NEAR THE MELTING THRESHOLD
The article was published in issue 6, volume 15, 2015