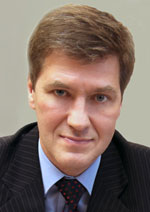 Nikiforov
Vladimir O.
D.Sc., Prof.
Medyanik Evgeniy V.
Work place: Scientific and Laboratory Complex of Clean Room, Institute of Engineering, North Caucasus Federal University, Stavropol, 355009, Russian Federatio
Post: Leading engineer
E-mail: miedianik84@mail.ru
Scopus ID: 57204793700
ORCID: 0000-0002-5947-7810

Nikova M. S., Chikulina I. S., Kravtsov A. A., Tarala V. A., Malyavin F. F., Evtushenko E. A., Tarala L. V., Vakalov D. S., Kuleshov D. S., Lapin V. A., Medyanik E. V., Zyryanov V. S.
SYNTHESIS OF LOW-AGGLOMERATED YAG:Yb NANOPOWDERS FOR TRANSPARENT CERAMICS BY METHOD OF REVERSE CO-PRECIPITATION FROM CHLORIDE SALTS
The article was published in issue 4, volume 19, 2019