Menu
Publications
Editor-in-Chief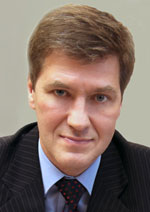 Nikiforov
Vladimir O.
D.Sc., Prof.
Partners
SIMULATION MODELLING OF MULTINOMENCLATURE MACHINE-BUILDING PRODUCT LINES OPERATION
M. . Levin, A. . Denisov, A. V. Baranov
Read the full article

Abstract
The description of the unit "Grouping" is given in the article responsible for problem solving of designing products technological unification in CAD/CAPP/CAM/CAE system and generalized balancing product lines algorithm is resulted.
Keywords:
product lines scheduling, Petri nets, evolutionary algorithm
This work is licensed under a
Creative Commons Attribution-NonCommercial 4.0 International License