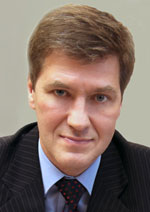 Nikiforov
Vladimir O.
D.Sc., Prof.
PHASE SHIFT METHOD FOR DURABILITY MEASUREMENTS OF FIBER OPTIC CABLES UNDER LONGITUDINAL TENSILE LOAD
V. M. Musalimov, N. Ovseev
Read the full article

';
Abstract
The subject of interest in this article is reliability of fiber optic cables under longitudinal tensile load. The main reliability criterion of optical cable is life time. According to standards it is 25 years. Reasons of durability changing were explored in this work. It is shown that mechanical longitudinal load is practically the main factor that reduces life time of fiber optic cable. Ways of decreasing the level of errors and updating the traditional scheme of the phase shift method are given. The method and installation scheme were realized in a real test bed.
Keywords:
cable, fiber, tension, proving, phase, durability
This work is licensed under a
Creative Commons Attribution-NonCommercial 4.0 International License