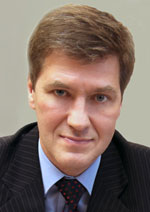 Nikiforov
Vladimir O.
D.Sc., Prof.

doi: :10.17586/2226-1494-2015-15-6-976-983
POTENTIALS OF RAMAN BASED SENSOR SYSTEM FOR AN ONLINE ANALYSIS OF HUMAN INHALE AND EXHALE
T. Seeger, S. Schlüter, G. N. Lukyanov
Read the full article

';
Article in
English
For citation:
Seeger T., Schlüter S., Lukyanov G. Potentials of Raman based sensor system for an online analysis of human inhale and exhale.
Scientific and Technical Journal of Information Technologies, Mechanics and Optics
, 2015, vol. 16, no. 6, pp. 976–983.
Abstract
A gas sensor based on spontaneous Raman scattering is proposed for the compositional analysis of single breath events. A description of the sensor as well as of the calibration procedure, which also allows the quantification of condensable gases, is presented. Moreover, a comprehensive characterization of the system is carried out in order to determine the measurement uncertainty. Finally, the sensor is applied to consecutive breath events and allowed measurements with 250 ms time resolution. The Raman sensor is able to detect all the major gas components, i.e. N2, O2, CO2, and H2O at ambient pressure with a high temporal resolution. Concentration fluctuations within a single breath event could be resolved.
Keywords:
Raman scattering; multi component gas sensor; low pressure; respiratory studies; multipass cavity; short sampling time; online breath expire air analysis.
Acknowledgements.
The authors thank in particular the Erlangen Graduate School in Advanced Optical Technologies (SAOT).
References
1. Buszewski B., Kesy M., Ligor T., Amann A. Human exhaled air analytics: biomarkers of diseases // Biomedical Chromatography. 2007. V. 21. N 6. P. 553–566. doi: 10.1002/bmc.835
2. Miekisch W., Schubert J.K., Noeldge-Schomburg G.F.E. Diagnostic potential of breath analysis – focus on volatile organic compounds // Clinica Chimica Acta. 2004. V. 347. N 1–2. P. 25–39. doi: 10.1016/j.cccn.2004.04.023
3. Bögözi T., Popp J., Frosh T. Fiber-enhanced Raman multi-gas spectroscopy: what is the potential of its application to breath analysis? // Bioanalysis. 2015. V. 7. N 3. P. 281–284. doi: 10.4155/BIO.14.299
4. Wojtas J., Bielecki Z., Stacewicz T., Mikołajczyk J., Nowakowski M. Ultrasensitive laser spectroscopy for breath analysis // Opto-Electronics Review. 2001. V. 20. N 1. P. 26–39. doi: 10.2478/s11772-012-0011-4
5. Krotov A. Modern methodological approaches in the evaluation of nasal breathing function // Vestnik Otorinolaringologii. 1998. N 4. P. 51–52. (In Russian)
6. Voronin A.A., Luk'yanov G.N., Neronov R.V. Computational modeling of airflow in nonregular shaped channels // Scientific and Technical Journal of Information Technologies, Mechanics and Optics. 2013. N 3(85). P. 113–118.
7. Luk'yanov G.N., Polishuk S.A. Nonlinear dynamical modeling for interaction processes of human breathing and tachycardia on the basis of given measurements // Scientific and Technical Journal of Information Technologies, Mechanics and Optics. 2013. N 4(86). P. 67–72.
8. Mutlu G.M., Garey K.W, Robbins R.A., Danziger L.H., Rubinstein I. Collection and analysis of exhaled breath condensate in humans // American Journal of Respiratory and Critical Care Medicine. 2001. V. 164. N 5. P. 731–737. doi: 10.1164/ajrccm.164.5.2101032
9. Voronin A.A., Luk'yanov G.N., Frolov E.V. Detached-eddy simulation of turbulent airflow // Scientific and Technical Journal of Information Technologies, Mechanics and Optics. 2014. N 1(89). P. 187–192.
10. Kistenev Y.V., Akbasheva O.E., Kutshma O.S., Dyukova E.V., Stepanova E.A., Pavlov V.S., Gulaja V.S. The gas composition of exhaled air and biochemical indicators of sputum in chronic obstructive pulmonary disease // Health & Education Millennium. 2012. V. 14. N 2. P. 68.
11. Yanov, Y., Shcherbakova N., Nacharov P. An analysis of the gas composition of exhaled air in the diagnosis of diseases // Russian Otorhinolaryngology. 2005. N 4. P. 126–132.
12. Herbig J., Müller M., Schallhart S., Titzmann T., Graus M., Hansel A. On-line breath analysis with PTR-TOF // Journal of Breath Research. 2009. V. 3. N 2. Art. 027004. doi: 10.1088/1752-7155/3/2/027004
13. Schulze-König T., Wacker L., Synal H.-A. Direct radiocarbon analysis of exhaled air // Journal of Analytical Atomic Spectrometry. 2011. V. 26. N 2. P. 287–292. doi: 10.1039/C0JA00039F
14. Portner P.M., LaForge D.H. Method and Apparatus for Pulmonary Function Analysis. Patent US4083367, 1978.
15. Schlüter S., Popovska-Leipertz N., Seeger T., Leipertz A. Gas sensor for volatile anesthetic agents based on Raman scattering // Physics Procedia. 2012. V. 39. P. 835–842. doi: 10.1016/j.phpro.2012.10.108
16. Schlüter S., Asbach S., Popovska-Leipertz N., Seeger T., Leipertz A. A signal enhanced portable Raman probe for anesthetic gas monitoring // Scientific and Technical Journal of Information Technologies, Mechanics and Optics. 2015. V. 15. N 2. P. 215–226. doi: 10.17586/2226-1494-2015-15-2-218-226
17. Schrader B., Bougeard D. Infrared and Raman Spectroscopy. Methods and Applications. NY: Wiley-VCH, Weinheim, 1995. 787 p.
18. Tobin M. C. Laser Raman Spectroscopy. NY: Wiley-Interscience, 1971.
19. Herzberg G. Molecular Spectra and Molecular Structure. I. Spectra of diatomic molecules. 2nd ed. D. van Nostrand Company Inc., 1966. 672 p.
20. Herzberg G. Molecular Spectra and Molecular Structure. II. Infrared and Raman spectra of polyatomic molecules. 2nd ed. D. van Nostrand Company Inc., 1966. 644 p.
21. Hill R.A., Mulac A.J., Hackett C.E. Retroreflecting multipass cell for Raman scattering // Applied Optics. 1977. V. 16. N 7. P. 2004–2006. doi: 10.1364/AO.16.002004
22. Hill R.A., Hartley D.L. Focused, multiple-pass cell for Raman scattering // Applied Optics. 1974. V. 13. N 1. P. 186–192. doi: 10.1364/AO.13.000186
23. Santavicca D.A. A high energy, long pulse Nd: Yag laser multipass cell for Raman scattering diagnostics // Optics Communication. 1979. V. 30. N 3. P. 423–425. doi: 10.1016/0030-4018(79)90385-7
24. Waldherr G.A., Lin H. Gain analysis of an optical multipass cell for spectroscopic measurements in luminous environments // Applied Optics. 2008. V. 47. N 7. P. 901–907. doi: 10.1364/AO.47.000901
25. Eichmann S.C., Weschta M., Kiefer J., Seeger T., Leipertz A. Characterization of a fast gas analyzer based on Raman scattering for the analysis of synthesis gas // Review of Scientific Instruments. 2010. V. 81. N 12. Art. 125104. doi: 10.1063/1.3521397

This work is licensed under a
Creative Commons Attribution-NonCommercial 4.0 International License