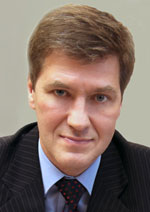 Nikiforov
Vladimir O.
D.Sc., Prof.

doi: 10.17586/2226-1494-2015-15-6-1139-1146
LTE OFFLOADING THROUGH WiFi NETWORKS
A. N. Steputin, N. O. Romashenkov, G. A. Fokin
Read the full article

';
Article in
Russian
For citation:
Steputin A.N., Romashenkov N.O., Fokin G.A. LTE offloading through WiFi networks.
Scientific and Technical Journal of Information Technologies, Mechanics and Optics
, 2015, vol. 15, no. 6, pp. 1139–1146.
Abstract
The subject of the article is Wi-Fi offloading of LTE networks as one of the methods for solving a problem of the lack of availability of network resources in the future. Comparison of mobile networks offloading technologies, such as femtocells, Small Cells and Wi-Fi, is given. Architecture of cooperative LTE+Wi-Fi network including both new network components and new functions for standard LTE network components is presented as well as interaction between components. Special attention is paid to the usage of mobile IP protocols providing connection to the LTE Core both by trusted and untrusted Wi-Fi access. Evaluation of implementation effectiveness and prospective of the technology is given. The relation between amounts of users reconnected to Wi-Fi, data rate of LTE network and amount of access points are submitted as a part of the simulation of user's equipment transition process from LTE to Wi-Fi network. A conclusion based on the research is made that stepwise phase-in of this technology enables to solve the problem of mobile network resources shortage in metropolises due to permanent traffic growth. It is presented that access points addition and transference of the customers to Wi-Fi network significantly reduce the overload on the base station herewith it increases some data rate with preservation of quality of provided services.
Keywords:
offloading of networks, 802.11n standard, MAG, LMA, WAG, ePDG. PMIPv6, DSMIPv6, trusted access, untrusted access.
References
1. 3GPP Specification: 36.932. Scenarios and Requirements for Small Cell Enhancements for E-UTRA and E-UTRAN. 2013. Available at: http://www.3gpp.org/dynareport/36932.htm (accessed 02.03.2014).
2. Horn G. 3GPP Femtocells: Architecture and Protocols. 2010. Available at: https://www.qualcomm.com/documents/3gpp-femtocells-architecture-and protocols (accessed 16.03.2014).
3. IEEE 802.11–2012. IEEE Standard for Information Technology. Part 11: Wireless LAN Medium Access Control (MAC) and Physical Layer (PHY) Specifications. 2012.
4. Nikitina A.V., Ryzhkov A.E. Radio Access Network of the Fourth Generation. Standard LTE: Technologies and Procedures. St. Petersburg, SUT Publ., 2012, 84 p.
5. IETF RFC 5944. IP Mobility Support for IPv4, Revised. 2010. Available at: http://www.ietf.org/proceedings/86/rfc/rfc5944.txt (accessed 16.03.2014).
6. IETF RFC 5213. Proxy Mobile IPv6. 2008. Available at: https://tools.ietf.org/html/rfc5213 (accessed 16.03.2014).
7. Tikhvinskii V.O., Terent'ev S.V., Yurchuk A.B. Mobile Network LTE: Technology and Architecture. Moscow, Eko-Trendz, 2010, 284 p.
8. 3GPP Specification: 23.234. 3GPP System to Wireless Local Area Network (WLAN) Interworking; System Description. 2012. Available at: http://www.3gpp.org/DynaReport/23234.htm (accessed 16.03.2014).
9. 3GPP Specification: 23.402. Architecture Enhancements for non-3GPP Accesses. 2013. Available at: http://www.3gpp.org/DynaReport/23402.htm (accessed 16.03.2014).
10. 3GPP Specification: 24.303. Mobility Management based on Dual-Stack Mobile IPv6; Stage 3. 2013. Available at: http://www.3gpp.org/dynareport/24303.htm (accessed 16.03.2014).
11. Ericsson Mobility Report. 2015. Available at: www.ericsson.com/res/docs/2015/ericsson-mobility-report-feb-2015-interim.pdf (accessed 07.03.2015).
12. 3GPP Specification 25.912. Feasibility Study for Evolved Universal Terrestrial Radio Access (UTRA) and Universal Terrestrial Radio Access Network (UTRAN). 2012. Available at: http://www.3gpp.org/DynaReport/25912.htm (accessed 12.04.2014).
13. Varukina L. Uprazhnenie po Planirovaniyu Radiosetei LTE, a Takzhe o Tekhnicheskikh Predposylkakh Ob"edineniya Operatorov [Exercise Planners Radio LTE, as well as the Technical Prerequisites Operators Association]. Available at: http://www.mforum.ru/arc/20110520_LTE_RNP_Varukina_180511.pdf (accessed 21.04.2014).
14. Gast M.S. 802.11ac: A Survival Guide. O'Reilly Media, 2013, 152 p.
15. Load Balancing between the two WAN-ports on the ZyWALL. Available at: http://zyxel.ru/kb/1443 (accessed 27.04.2014).

This work is licensed under a
Creative Commons Attribution-NonCommercial 4.0 International License