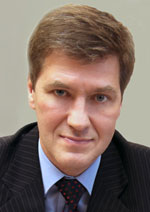 Nikiforov
Vladimir O.
D.Sc., Prof.
SYSTEMS OF DUPLICATED COMPUTER COMPLEXES WITH REQUESTS REALLOCATION
I. Y. Golubev
Read the full article

';
Abstract
The approaches to fault-tolerant computer networks organization are researched based on duplicated computer
complexes, providing reliability and performance increase via dynamic redistribution of the requests flow, taking
into account status and occupancy of computer nodes. The presented results demonstrate the important role of
multiplicity of redundancy and occupancy balancing in system efficiency. The dependence of system efficiency
on the distribution method of computer nodes between network levels and requests flow between nodes are
identified. The efficiency of reliability and performance ensuring for computer systems, composed of duplicated
computer complexes, based on dynamic requests allocation is demonstrated.
Keywords:
duplicated computer complexes, occupancy balancing, computer networks.
This work is licensed under a
Creative Commons Attribution-NonCommercial 4.0 International License