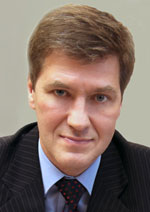 Nikiforov
Vladimir O.
D.Sc., Prof.
PECULIARITIES OF CONTINUOUS WAVE GENERATION OF Er:YLF-LASER WITH SELECTIVE PUMPING ON TERMINATE (4I13/2) AND INITIAL (4I11/2) LASER LEVELS
D. Sachkov
Read the full article

';
Abstract
The current work presents the results of theoretical study of spectral and energy characteristics of Er:YLF-laser in dependence on up-conversion parameters of 4I11/2 and 4I13/2 levels and the pumping scheme. The theoretical model developed in this work can be used for other erbium crystals.
Keywords:
erbium, laser, selective pumping, continuous wave (CW) generation
This work is licensed under a
Creative Commons Attribution-NonCommercial 4.0 International License