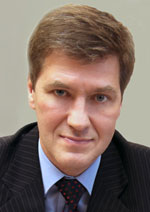 Nikiforov
Vladimir O.
D.Sc., Prof.

doi: 10.17586/2226-1494-2017-17-1-46-51
FORMATION OF NANOSTRUCTURED CuO FILM ON FLUOROPHOSPHATE GLASS SURFACE
E. V. Kolobkova, M. D. Ba, A. S. Kochetkova
Read the full article

';
Article in
Russian
For citation:
Kolobkova E.V., Ba Minh Dinh, Kochetkova A.S. Formation of nanostructured СuО film on fluorophosphate glass surface.
Scientific and Technical Journal of Information Technologies, Mechanics and Optics
, 2017, vol. 17, no. 1, pp. 46–51. doi: 10.17586/2226-1494-2017-17-1-46-51
Abstract
The paper deals with СuОfilms on the fluorophosphate glass surface composed of 25Na2O-50P2O5-10Ga2O3-10AlF3-5ZnO doped with 2, 4, 5 mol. %. CuCl over 100%. The films are obtained by the out-diffusion mechanism within the heat retreatment of the samples. We have studied the influence of copper concentration, redox conditions of the synthesis and the temperature - time parameters of heat treatment. X-ray phase analysis has shown that in the heat treatment temperature range of T = 380 – 420°C in the air the CuO film is formed by nanocrystals with an average size of 16 – 18 nm, and the increasing of heat treatment temperature and time leads only to the film thickness growth. It is shown that the film surface consists of crystallites with irregular shape; the lateral size is in the range of 100–350 nm, and the visible part level is equal to 15–25 nm. The average surface roughness measured on a scan area of 1×1 µm is equal to 3.1 nm. It is found out that Cu2O or metallic copper nanocrystals are formed in reducing conditionsdepending on the duration of the heat treatment process.
Keywords: fluorophosphates glasses, copper, nanocrystals, thin films, absorptions spectra

Acknowledgements. The research was funded by the Russian Science Foundation (Project No.14-23-00136)

References