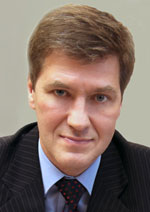 Nikiforov
Vladimir O.
D.Sc., Prof.

doi: 10.17586/2226-1494-2017-17-1-100-109
ON INFORMATION SECURITY SOLUTIONS APPLICABLE TO D2D COMMUNICATIONS WITHIN THE 5G DOMAIN: ANALYZING THE INFLUENCE OF USER MOBILITY
A. Y. Ometov, S. D. Andreev, A. B. Levina, S. V. Bezzateev, A. Orsino
Read the full article

';
Article in
Russian
For citation:
Ometov A.Ya., Andreev S.D., Levina A.B., Bezzateev S.V., Orsino A. On information security solutions applicable to D2D communications within the 5G domain: analyzing the influence of user mobility.
Scientific and Technical Journal of Information Technologies, Mechanics and Optics
, 2017, vol. 17, no. 1, pp. 100–109. doi: 10.17586/2226-1494-2017-17-1-100-109
Abstract
The paper deals with the problems of peer-to-peer systems such as Device-to-Device (D2D) operating in 5G networks. First, we consider the task of ensuring secure, direct connections between mobile users by utilizing the developed simulator. We present results of the dynamic user clustering in geographical proximity exchanging packet data and Levy flight mobility model. The study results give the possibility to determine benefits of the technology integration in the 3GPP LTE network in terms of throughput. We have shown that technology implementation provides a system capacity increase up to 30% with a slight growth in the time required for the initialization of direct connections. The results may be useful for the academy and industrial experts working in the field of telecommunication systems and information security.
Keywords:
information security, 5G, D2D
References
Fig. 5. Examples of key distribution schemes (a–d)
Fig. 6. An example of individual user movement in the system
Fig. 7. The dependence of delay on the user's speed
Fig. 8. The dependence of the throughput on the user's speed