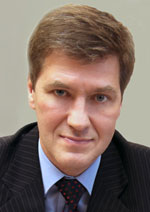 Nikiforov
Vladimir O.
D.Sc., Prof.

doi: 10.17586/2226-1494-2018-18-1-43-49
RESEARCH OF BIODEGRADATION AND ANTIMICROBIAL PROPERTIES OF POLYVINYL CHLORIDE SHEETINGS WITH PECTIN AND STARCH ADDITIVES
V. S. Sibirtsev, K. V. Volkova, A. K. Khaydarov, Tran Thanh Tuan, S. A. Stroev, M. A. Radin
Read the full article

';
Article in
Russian
For citation:
Sibirtsev V.S., Volkova K.V., Khaydarov A.Kh., Chan Than Tuan, Stroev S.A., Radin M.A. Research of biodegradation and antimicrobial properties of polyvinyl chloride sheetings with pectin and starch additives.
Scientific and Technical Journal of Information Technologies, Mechanics and Optics
, 2018, vol. 18, no. 1, pp. 43–49 (in Russian). doi: 10.17586/2226-1494-2018-18-1-43-49
Abstract
The paper describes a new methodof stability assessment of polymericmaterials to destruction caused by various factors (such as mechanical loads, moisture and microorganisms' vital activity). This method includes puncture resistance comparison of researched material samples, determined after nine-day incubation of these samples in liquid nutrient medium with test microorganisms and daily 40 vol.% substitution of this medium for a sterile one, as well as after incubation of similar samples in a sterile medium, and without incubation of these samples. The described methodwas used to study stability of a number of new polymericmaterials to various types of destruction. The materials were made on the basis of vinyl chloride polymer with addition of 0, 1, 5 and 10 mass.% of starch and pectin. The effect of the mentioned materials on the growth and metabolicactivity in liquid nutrientmedium ofEscherichia coliATCC 25922 was studied also (according to dynamics of intensity change of elastic optical dispersion and conductivity of the mentioned medium during the first ten hours of its incubationat the presence of tested objects and test microorganisms). As a result, it is shown that all researched materials are resistant to moisture action. At the same time, allused additives even in 1 mass.% quantity considerably reduced mechanical strength of researched materials compared with pure vinyl chloride polymer; as well as increased biodegradationof thesematerials(though in substantially smaller degree at small quantities of the additives). Moreover,the lattereffect was provided by the addition of starchto vinyl chloride polymerin considerably greater degree, than the addition of pectin.Besides, all used additives reduced the antimicrobialeffect of the polyvinyl chloride base of researched materials. The more starch or pectin was contained in researched material, the greater reduction occurred; at the identical quantity of them it occurred in the presence of starch to a greater extent, than in the presence of pectin.
Keywords: biodegradation, polymers, polyvinyl chlorides, starch, pectin, antimicrobial properties

References