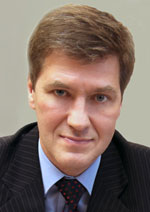 Nikiforov
Vladimir O.
D.Sc., Prof.
Sibirtsev Vladimir S.
Work place: All-Russian Research Institute for Food Additives – Branch of V.M. Gorbatov Federal Research Center for Food Systems of RAS, Saint Petersburg, 191014, Russian Federation
Post: Associate professor, Laboratory Head
Degree: PhD
E-mail: vs1969r@mail.ru
Scopus ID: 6603964394
ORCID: 0000-0003-0829-5213

Sibirtsev V. S., Krasnikova L. V., , Stroev S. A., Naumov I. A., Olekhnovich R. O., Tereschenko V. F., Shabanova E. M., Al-Khatib M.
NEW BIOTESTING METHOD WITH THE APPLICATION OF MODERN IMPEDANCE TECHNOLOGIES
The article was published in issue 2, volume 15, 2015