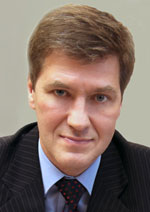 Nikiforov
Vladimir O.
D.Sc., Prof.
COMPLEX ENVELOPE OF ARBITRARILY-SHAPED OPTICAL FIELD FOR THE DESCRIPTION OF INTERACTION OF PULSES WITH CONTINUUM SPECTRA AND DIFFERENT CENTRAL FREQUENCIES IN TRANSPARENT NONLINEAR MEDIA
Y. A. Shpolyanskiy
Read the full article

';
Abstract
The analytical signal formalism is used to derive expression for the optical field complex envelope of continuum spectrum pulses with different central frequencies. It is shown that self- and interaction of such pulses in nonlinear media can be described by the single equation for the envelope of total field provided that the frequency dependence of propagation constant is introduced in the Fourier domain directly instead of the conventional Taylor expansion.
Keywords:
continuum, ultra broad spectrum, femtosecond, ultra fast, ultra short, extremely short, envelope, analytical signal, interaction, cross-modulation.
This work is licensed under a
Creative Commons Attribution-NonCommercial 4.0 International License