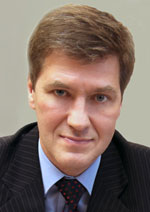 Nikiforov
Vladimir O.
D.Sc., Prof.
INFRARED RADIATION PUMP SYSTEM FOR CONTINUOUS WAVE TERAHERTZ RADIATION SOURCE WITH PROGRAM CONTROL
A. Vedeneev, N. Ionina, V. Orlov, A. S. Rokhmin, E. Sedykh, M. K. Khodzitskiy, S. A. Kozlov
Read the full article

';
Abstract
The infrared radiation pump system for photoconductive antenna, a continuous wave terahertz radiation source, based on frequency mixing of two semiconductor lasers at 1.5 µm was created. This system enables to extend the working tuning range of THz spectrometer to 18 THz with increment of 0.125 GHz. In addition, the original software, making it possible to use the pump system of antenna as a high-precision infrared spectrometer in the wavelength range of 1450 - 1590 nm, was developed.
Keywords:
pump system, terahertz radiation, infrared spectroscopy
This work is licensed under a
Creative Commons Attribution-NonCommercial 4.0 International License