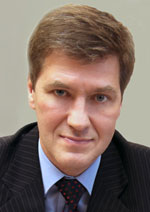 Nikiforov
Vladimir O.
D.Sc., Prof.
ABLATION OF HARD TISSUESOF HUMAN TOOTH BY YLF: ER LASER RADIATION WITH DIODE PUMPING
A. V. Belikov, M. Inochkin, A. Skripnik, L. V. Khloponin, V. Y. Khramov, K. Shatilova
Read the full article

';
Abstract
Prototype of YLF: Er diode-pumped micro laser was developed. Influence features of the developed micro laser prototype radiation with a wavelength of 2. 84 μm on hard tissues of human tooth were examined. Effects of turning white, carbonization and ablation of dental hard tissues as a result of laser exposure were found. Thresholds of these effects were identified. It was established that the micro hardness of human dentin can be increased by more than 20% as a result of repeated exposure of laser pulses with energy lower than the turningwhite threshold.
Keywords:
YLF: Er laser, diode pumping, enamel, dentine, ablation, micro hardness
This work is licensed under a
Creative Commons Attribution-NonCommercial 4.0 International License