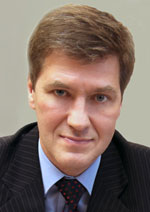 Nikiforov
Vladimir O.
D.Sc., Prof.
SIGNALS IMITATOR AT THE RECEIVING ELEMENTS OUTPUT OF THE PASSIVE HYDROACOUSTIC STATION WITH FLEXIBLE EXTENSIVE TRAILING ANTENNA
Y. Shafranyuk
Read the full article

Abstract
Mathematical model is proposed for the signals imitator at the receiving elements output of the flexible extensive trailing antenna, taking into account the characteristics of the radiation, propagation and reception of signals and noise in real sea conditions. Requirements for the simulator are presented. General scheme and design principle are proposed. Imitator operability is illustrated on the example of the simulated data.
Keywords:
hydro acoustics, passive hydro acoustic stations, antennas, multi beam propagation, simulation
This work is licensed under a
Creative Commons Attribution-NonCommercial 4.0 International License