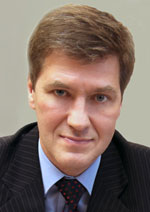 Nikiforov
Vladimir O.
D.Sc., Prof.
DECOMPOSITION OF n-DIMENSIONAL DIGITAL SIGNALS ON RECTANGULAR WAVELET BASIS
A. Y. Grishentsev, A. G. Korobeynikov
Read the full article

';
Abstract
Decomposition method for n-dimensional digital signals obtained on the base of wavelet transform is considered, and n-dimensional digital signals are considered as a superposition of the chosen wavelets. The practical application of the method is possible for conversion and processing of static and dynamic images, steganography, the spectral analysis of multi-dimensional discrete field structures, and solution of mathematical physics problems.
Keywords:
decomposition of n-dimensional signals, spectral analysis, digital signal processing
This work is licensed under a
Creative Commons Attribution-NonCommercial 4.0 International License