Menu
Publications
Editor-in-Chief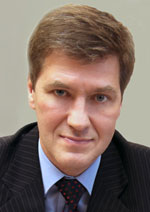 Nikiforov
Vladimir O.
D.Sc., Prof.
Partners
TRIBOLOGICAL PERFORMANCE OF POLYMER NANOCOMPOSITES MODIFIED BY FULLEROID MATERIALS
D. V. Pikhurov, V. V. Zuev
Read the full article

Abstract
The effect of fulleroid modificators and carbon fibers on tribological properties of polymer nanocomposites based on thermoplastic polymeric matrixes (polyamide 6) was investigated. It was shown that fulleroid modificators insertion makes it possible to decrease the friction factor of polymer composites and improve mechanical and tribological properties of composites. The using of carbon fibers for polyamide 6 modification at mechanical properties growth leads to the friction factor growth on steel more than twice as compared with the initial polymer matrix.
Keywords:
fullerene С60, polyamide 6, nanocomposites, tribological properties, friction factor
This work is licensed under a
Creative Commons Attribution-NonCommercial 4.0 International License