Menu
Publications
Editor-in-Chief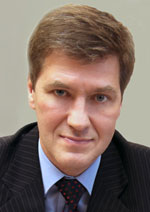 Nikiforov
Vladimir O.
D.Sc., Prof.
Partners
QUALITY EVALUATION OF JUICES BY THEIR SOLID COMPONENTS STRUCTURE ANALYSIS WITH OPTICAL METHOD
M. G. Tomilin, I. . Fadeev
Read the full article

Abstract
Optical method application, based on the nematic liquid crystals (NLC) usage for structure visualization of solid components of juices is described. These structures visualization is done at variation of the boundary layer orientation of nematic liquid crystal. Not researched sediment structures themselves are observed but liquid crystal layer deformation called forth by them. Obtained images of these structures are unequivocally connected with product properties Fruit and vegetable juices stored under different conditions were used for investigation. Comparison of their structures was made and it showed the suitability of the method for product quality control.
Keywords:
nematic liquid crystal, structure visualization, juices, product quality, polarizing microscope
This work is licensed under a
Creative Commons Attribution-NonCommercial 4.0 International License