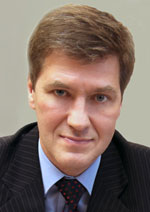 Nikiforov
Vladimir O.
D.Sc., Prof.
SINGLE-PULSE WRITING AND VISUALIZATION OF TYPE II FIBER BRAGG GRATINGS
S. V. Varzhel, A. V. Kulikov, V. . Zakharov, V. A. Aseev
Read the full article

';
Abstract
The article presents the results of single-pulse writing of type II fiber Bragg gratings in birefringent optical fiber with elliptical stress cladding by a single KrF excimer laser pulse. Gratings diffraction efficiency induced by a single pulse exceeds 99.9% with a full-width at half maximum about 1 nm. Images of type II fiber Bragg gratings using differential interference contrast method and bright-field microscopy are obtained.
Keywords:
fiber Bragg grating, birefringence, phase mask, excimer laser
This work is licensed under a
Creative Commons Attribution-NonCommercial 4.0 International License