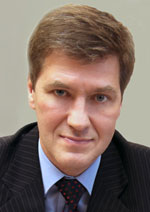 Nikiforov
Vladimir O.
D.Sc., Prof.
COMPUTER SYSTEMS AND INFORMATION TECHNOLOGIES FUZZY MARKOVIAN MODEL BASED TECHNOLOGY FOR ASSESSMENT OF MULTI-AGENT DISTRIBUTED INFORMATION SYSTEMS RELIABILITY STATUS
V. Bogatikov
Read the full article

Abstract
Assessment technology for multi-agent distributed information systems reliability status based on fuzzy Markovian model, which nodes are represented as integral reliability indexes, has been developed. The index is an assessment of fuzzy equality degree between a current situation, which is described by reliability indexes system, and the situations, which corresponding to network safe functioning domain. The technology provides information and hardware system resources distribution identification for reliability goal achievement and support.
Keywords:
technology, modeling, reliability status assessment, distributed information systems, fuzzy Markovian model, multi-agent systems
This work is licensed under a
Creative Commons Attribution-NonCommercial 4.0 International License