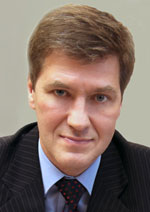 Nikiforov
Vladimir O.
D.Sc., Prof.
INVESTIGATION OF NANOPARTICLES MOVEMENT EFFECT UNDER THE INFLUENCE OF FIELDS AND CHARGES CREATED BY A FOCUSED ELECTRON BEAM
P. Komissarenko, A. Denisyuk
Read the full article

';
Abstract
The article deals with investigation of dielectric nanoparticles movement effect observed by electron microscope. In the experiments, 120 nm size polystyrene nanoparticles were moved over a substrate and fixed on the end of a closely placed metallic needle being charged under the electron beam. Interaction mechanisms in the system «particle–needle–substrate» were analyzed. Results of calculation and modeling are in agreement with experimentally observed effects. The observed effect can serve as a basis of a new method for precise movement of nanoparticles.
Keywords:
electron microscopy, methods of nanoparticles precise movement
This work is licensed under a
Creative Commons Attribution-NonCommercial 4.0 International License