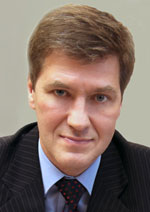 Nikiforov
Vladimir O.
D.Sc., Prof.
PRODUCT SURFACE QUALITY PROVIDING ON ELECTRO-EROSION EQUIPMENT
V. A. Valetov, V. Medunetskiy
Read the full article

';
Abstract
Expediency of electro-erosion facilities in preparing surfaces with determined micro geometric surface
parameters while creating formative matrix is justified. Solutions of technological tasks are presented, which
show the expediency of electro-erosion facilities in simplifying of creating technology and efficiency increase
with saving specified surface quality. In addition, experiments results are presented, showing failure of
parametrical method as a method of surface roughness assessment, and showing influence of instrumentelectrode
surface roughness on the speed of blank-product surface processing.
Keywords:
surface roughness, electro-erosion processes and facilities, nonparametric criteria of surface roughness assessment.
This work is licensed under a
Creative Commons Attribution-NonCommercial 4.0 International License