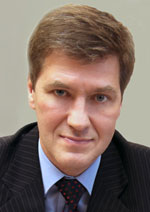 Nikiforov
Vladimir O.
D.Sc., Prof.
MANAGEMENT SCIENTIFIC PRECONDITIONS FOR INTELLECTUAL PROPERTY IN THE PROBLEMS DECISION OF INNOVATIVE DEVELOPMENT OF RUSSIA
S. Murashova
Read the full article

Abstract
Basic directions for formation of management scientific preconditions for intellectual property are stated,
interrelation of strategic innovative development of the country with intellectual property management at businessunits
level is shown and modern approach to commercialization of intellectual activity results is reflected.
Keywords:
intellectual property, business subjects, business units, technocratic theories, non-material wellbeing, competitiveness, innovative development.
This work is licensed under a
Creative Commons Attribution-NonCommercial 4.0 International License