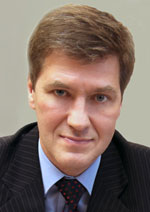 Nikiforov
Vladimir O.
D.Sc., Prof.
LIGHT DIFFUSION IN A MEDIUM WITH NANOSCALE HETEROGENEITIES
, , , O. Andreeva, D. Temnova, V. V. Lesnichiy, V. Almyashev, S. Kirillova, S. A. Chivilikhin, I. Y. Popov, V. Gusarov
Read the full article

';
Abstract
A method for determining the characteristic size of nanoparticles or other nanoscale heterogeneities is proposed. The method is based on comparing of experimental and theoretical spectral dependences of light attenuation coefficient during the light propagation through heterogeneous medium. One of the possible applications of this method is the analysis of nanoparticle sizes produced in the process of hydrothermal synthesis. The porous glass with known size of pores was chosen as a model of medium.
Keywords:
light scattering, diffusion approximation, nanoparticles, hydrothermal synthesis, porous glass
This work is licensed under a
Creative Commons Attribution-NonCommercial 4.0 International License