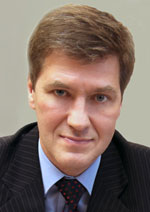 Nikiforov
Vladimir O.
D.Sc., Prof.
OPTICAL SPECTRAL TECHNOLOGIES APPLICATION FOR CONTROL AND DIAGNOSTICS OF BLEACHING WORKS IN THE PULP AND PAPER INDUSTRY
N. P. Belov, V. T. Prokopenko, A. S. Sherstobitova, A. D. Yaskov
Read the full article

';
Abstract
The article deals with optical methods, control and diagnostics means of bleaching works in the pulp and paper industry using chlorinated whitens. Results of laboratory studies in visible region of wavelengths of cellulose diffuse reflectance R and parameter of whiteness B against the expenditure of chlorinated whiten and continuance of bleaching process are represented. Spectral data of diffuse reflectance are compared with the ultraviolet absorption in aqueous solutions of residual lignins. Algorithms of optical spectral technologies application for optimization of pulp bleaching works are substantiated. Results of industrial tests of optical spectral sensor of whiteness in Kotlas Pulp and Paper Mill bleaching manufacture are represented.
Keywords:
  diffuse reflectance coefficient, parameter of whiteness, ultraviolet absorption, residual lignins, active chlorine concentration.
This work is licensed under a
Creative Commons Attribution-NonCommercial 4.0 International License