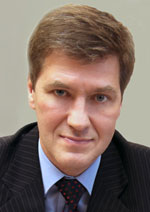 Nikiforov
Vladimir O.
D.Sc., Prof.
CAD FEATURES FOR DIFFRACTION GRATINGS MODELING
V. N. Vasiliev, D. Vorontsov, A. Dragunov, I. L. Livshits, E. A. Sokolova
Read the full article

';
Abstract
Computer-aided design features for various types of diffraction gratings using ZEMAX software are investigated. It is shown that the model set choice of diffraction gratings in the most cases is determined by technology of their manufacture. Guidelines for five types of gratings are provided: an elliptical one of the first and second type, a hologram, a binary surface of the first type and optically generated hologram. Connection between the modeling way of diffraction gratings and their manufacturing technology is shown. Recommendations are given for selecting the optimal model for threaded and holographic diffraction gratings.
Keywords:
diffraction grating, spectrometer, hologram, phase coefficients
This work is licensed under a
Creative Commons Attribution-NonCommercial 4.0 International License