Menu
Publications
Editor-in-Chief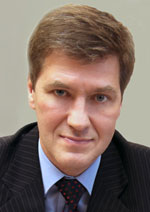 Nikiforov
Vladimir O.
D.Sc., Prof.
Partners
IDENTIFICATION SYSTEM OF THE SPEAKER'S AGE GROUP BY SPONTANEOUS SPEECH RECORD
K. . Simonchik
Read the full article

Abstract
The paper proposes to use the popular text independent speaker identification method based on i-vectors extraction for the solution of the speaker's age group identification. Two realizations of speaker's age group detector based on using i-vectors are researched: an approach based on a support vector machine classifier and another one based on a multiple linear regression. Both methods provide a high accuracy rate of speaker's age group detection by spontaneous speech recordings. The average rate of correct speaker's age group identification was 61% and 65% respectively for the NIST SRE 2008 speech database.
Keywords:
age, i-vector, SVM, linear regression
This work is licensed under a
Creative Commons Attribution-NonCommercial 4.0 International License