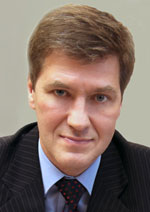 Nikiforov
Vladimir O.
D.Sc., Prof.
INVESTIGATION OF LASING PARAMETERS OF DIODE PUMPED SOLID STATE ERBIUM MICROLASERS
I. N. Dubinkin, M. Inochkin, N. Lonschakova, V. V. Nazarov, D. Sachkov, L. V. Khloponin, V. Y. Khramov
Read the full article

';
Abstract
The passive Q-switching of diode-pumped Er:YLF microlaser was realized for the first time in the current work. With f Fe2+:ZnSe crystal use the giant pulses with energy 2.9 mJ and duration 30 ns at wavelength 2.81 um were observed.
Keywords:
erbium, laser, selective pumping, Fe2+:ZnSe, passive Q-switching
This work is licensed under a
Creative Commons Attribution-NonCommercial 4.0 International License