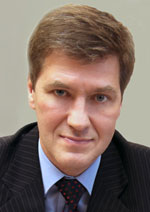 Nikiforov
Vladimir O.
D.Sc., Prof.
GaAs P-I-N STRUCTURES FOR X-RAY DETECTORS
Y. Zhilyaev, D. Mikulik, T. Orlova, N. Poletaev, S. Snytkina, L. Fyodorov, V. Panteleev
Read the full article

';
Abstract
The characteristics of GaAs p-i-n structures, made by vapor phase epitaxy, were researched. New conditions of epitaxial growth, allowing the production of thick ultra-pure GaAs layers by single process are worked out.
Keywords:
p-i-n structures, GaAs, HVPE, X-ray detector
This work is licensed under a
Creative Commons Attribution-NonCommercial 4.0 International License