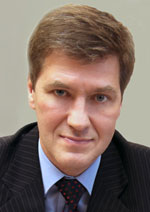 Nikiforov
Vladimir O.
D.Sc., Prof.
ANALYSIS AND PROCESSING OF ELECTROMYOGRAM SIGNALS
K. A. Zimenko, A. S. Borgul, A. A. Margun
Read the full article

';
Abstract
A method of electromyogram signals processing and identification for implementation in rehabilitation devices control is given. The method is based on the high-frequency components filtration which improves the signal/noise ratio; also it is based on the wavelet analysis for signal preprocessing and motion type classification by taught artificial neural network. Obtained accuracy of motion type classification is 94%.
Keywords:
electromyogram, neural network, signal processing, wavelet transform
This work is licensed under a
Creative Commons Attribution-NonCommercial 4.0 International License