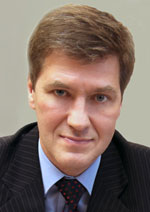 Nikiforov
Vladimir O.
D.Sc., Prof.
TERAHERTZ RADIATION INFLUENCE ON THE GROWING OF NEURITES
M. V. Tsurkan, O. A. Smolyanskaya, N. G. Bryantseva
Read the full article

';
Abstract
Our research was devoted to the impact of broadband pulsed THz radiation in the frequency range of 0.05 to 2 THz on the neurite growth in the sensory ganglia of 10-12-day chicken embryos. Dependence of changes in functional responses of cells on the average output power has been found.
Keywords:
terahertz (THz) radiation, therapy, medicine, cell growth, stimulation, organotypic tissue culture, neurite
This work is licensed under a
Creative Commons Attribution-NonCommercial 4.0 International License