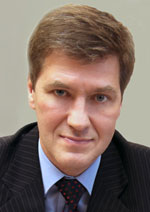 Nikiforov
Vladimir O.
D.Sc., Prof.
APPLICATION OF TIME-OF-FLIGHT PMD-CAMERAS FOR DISTANCE MEASUREMENT TO WATER SURFACE
D. Y. Krysin, A. V. Nebylov
Read the full article

';
Abstract
The article deals with results that confirm the possibility of time-of-flight PMD-cameras application for shortdistance measuring (0.2-5 m) to water surface. Main features of the PMD-technology are considered. Developed experimental setup is presented. An experiment, confirming the efficiency of PMD-cameras under natural conditions is described. Experimental 3D-images of water surface shape are presented with corresponding explanation. Graphical results of statistical processing of valid pixels of 3D-images are presented. 3D-image processing algorithms are proposed for estimate of distance. The results may be useful in solving the problems of liquid level measurement, determining the parameters of sea waves and measuring the height of the movement of object above the water surface.
Keywords:
time-of-flight method, PMD-camera, 3D-image, distance measurement, water surface, experimental setup, image formation
This work is licensed under a
Creative Commons Attribution-NonCommercial 4.0 International License