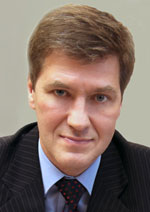 Nikiforov
Vladimir O.
D.Sc., Prof.
TERAHERTZ REFLECTANCE SPECTRA OF SKIN DERMATITIS AND MORPHOLOGICAL CHANGES
O. A. Smolyanskaya, A. A. Ezerskaya, I. V. Prozheev, E. A. Strepitov
Read the full article

';
Abstract
The article deals withthe diagnostics possibility of dermatitis and morphological changes of human skin using terahertz frequency range equal to 2,0¸0,05 THz. Features of different types of human skin diseases occur in vivo over the entire frequency range, especially in the field of vibration: 2,0¸1,5 THz. They were caused by the backscattering on skin new formations in its upper layers. In terahertz reflection spectra spectral lines of different dermatitis, age spots, haematoma are well distinguishable. Terahertz radiation penetrates well through the medical bandages. At the same time in a single scan, lasting about one minute, the spectrum is processed not only of the bandages, but of different skin layers.
Keywords:
terahertzdiagnostics, dermatitis, morphological skin changes
This work is licensed under a
Creative Commons Attribution-NonCommercial 4.0 International License