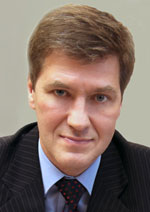 Nikiforov
Vladimir O.
D.Sc., Prof.
RADIATION INFLUENCE IN THE RANGE OF 0.05 ÷ 2 THZ ON MITOCHONDRIAL MEMBRANE POTENTIAL
M. V. Tsurkan, I. Kudryavtsev, M. Serebryakova, Y. Nesgovorova, A. Trulyov, I. Nazarova, O. A. Smolyanskaya, P. Nazarov, A. Polevshchikov
Read the full article

';
Abstract
Application of terahertz (THz) radiation sources is rapidly growing in recent years. It is estimated that it can be used in medical diagnosis of skin diseases and skin cancer. However, the divergent data on the effects of THz radiation put in question the safety of its use. To assess the effects of THz radiation at the cellular level, the mitochondrial membrane potential and the permeability of the cell membrane of certain cells of transplanted crops, and thymocytes and splenocytes of mice were investigated after exposure by flow cytometry. It was shown that the terahertz radiation with 30, 2 and 0.1 mW radiated power and 1 minute exposure have neither significant effect on the change in the functional activity of mitochondria, nor gives integrity on their bilipid outer membranes. Including, no statistically significant changes in the ratio of live and at different stages of apoptotic cells were found.
Keywords:
terahertz (THz) radiation, medicine, biological effects, membrane potential, membrane permeability
This work is licensed under a
Creative Commons Attribution-NonCommercial 4.0 International License