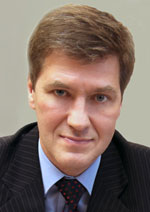 Nikiforov
Vladimir O.
D.Sc., Prof.
OPTICAL AND OPTICAL ELECTRONIC SYSTEMS. OPTICAL TECHNOLOGIES LABORATORY SPECTROPHOTOMETER FOR VISIBLE SPECTRAL REGION
A. Konstantin, N. P. Belov, Y. Smirnov, A. S. Sherstobitova, E. Scherbakova, A. D. Yaskov
Read the full article

';
Abstract
Design features and basic technical-performance characteristics of laboratory spectrophotometer for visible spectral region (λ = 380-760 nm) are considered. Results of device approbation are given, as well as examples of its application for photo-optical bleaching, toning and coloring technologies control of paper.
Keywords:
spectrophotometry, optical materials, photo-optical bleaching, toning, coloring of paper
This work is licensed under a
Creative Commons Attribution-NonCommercial 4.0 International License