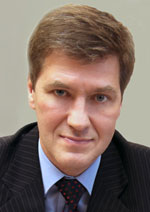 Nikiforov
Vladimir O.
D.Sc., Prof.
SELECTION AND CALCULATION OF OPTOELECTRONIC SYSTEM ITEMS WITH OPTICAL EQUISIGNAL ZONE FOR VERTICAL TEMPERATURE GRADIENT MEASUREMENT OF THE AIR PATH
V. Gusarov, A. N. Timofeev
Read the full article

';
Abstract
The article deals with selection and calculation of optoelectronic system basic parameters with optical equisignal zone to measure the vertical temperature gradient of the air path, which is the main factor having an influence on the refraction angle. Selection feature of radiation sources for polychromatic equisignal zone creation is considered which means the necessity of one wavelength radiation selection from the blue spectrum and another – from infrared. Objective is selected for the base direction set, based on the calculated diameter of the transmission exit pupil and the requirement of the spherical aberration minimum value. Energy calculation is done, diameter of the pupil is selected and receiver system objective is chosen. The way of radiation combining is defined and optical system for the base direction set is proposed with four two-lens condensers.
Keywords:
atmospheric refraction, temperature gradient, optical equisignal zone
This work is licensed under a
Creative Commons Attribution-NonCommercial 4.0 International License