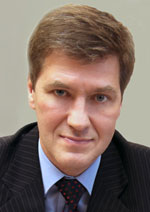 Nikiforov
Vladimir O.
D.Sc., Prof.
OPTICAL CHARACTERISTICS DEFINITION OF OPTICAL TECHNOLOGY SURFACE ELEMENTS FOR THEIR OPTICAL CONNECTIONS
A. N. Gorlyak, A. Novak, V. M. Solonukha, I. A. Khramtsovsky
Read the full article

';
Abstract
The article deals with ellipsometrical researches results of optical characteristics for optical technology surface elements made of sodium and silicate glass K8 at various technological processing. It is shown that equality of average values of thickness and refractive index of surface layers defined for non-uniform and uniform models of reflecting system while detail polishing, is a quality criterion of the polished optical technology elements surface for their optical connections. Comparison of surface elements optical characteristics of the details processed by methods of usual grinding and polishing, deep grinding and polishing and by magnetorheological suspension is carried out. In the latter case it is possible to receive a detail surface with the small thickness of surface layer and deviation of the refractive index from volume value, the small mean square value of a rough surface height.
Keywords:
ellipsometry, surface layer, optical technology
This work is licensed under a
Creative Commons Attribution-NonCommercial 4.0 International License