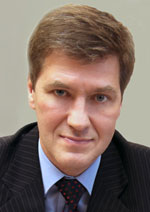 Nikiforov
Vladimir O.
D.Sc., Prof.
CHARACTERISTICS CHANGE OF UV LIGHT EMITTING DIODE CHIP-ON-BOARD ASSEMBLIES AT LONG WORKING TIME ON NOMINAL CURRENT
K. Vinogradova, N. Seredova
Read the full article

';
Abstract
UVA (320–400 nm) light emitting diode chip-on-board (COB) prototypes have been studied. The constructions of the prototype have identical ceramic base, metallization pattern and optical coating but different quantity of chips and their relative position. Dependences of optical and electrical characteristics vis. working time are shown. It has been presented that as quantity of chips in board is increased as the rate of characteristics degradation is intensified. The COBs which had 1.5 times higher radiative power at nominal current, which were flowing throw individual chip, have shown the rate of degradation 3 times higher. It has been worked out in 2% increase of forward voltage and 5% decrease of wall plug efficiency in a period of 1000 hours working.
Keywords:
ultraviolet light emitting diode, ultraviolet light emitting diode chip-on-board, degradation
This work is licensed under a
Creative Commons Attribution-NonCommercial 4.0 International License