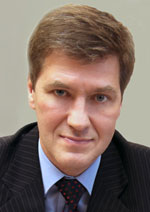 Nikiforov
Vladimir O.
D.Sc., Prof.
SOFTWARE FOR ELEMENTARY PETRI NETS TOPOLOGY AND CLASSIFICATION STUDYING BY THEIR HOMOLOGY GROUPS CALCULATION
T. Trishina
Read the full article

';
Abstract
The article deals with the software for computing of homology groups and directed homology groups of elementary Petri nets. Calculation method is based on an algorithm for finding the homology groups of the complex of finitely generated free Abelian groups by the Smith normal form. The main idea is in the method for calculating of matrix coefficient of differential that admits a visual inspection. Moreover, the problem of visual constructing a Petri net with the ability to study its dynamics is considered. Examples of manual calculations of homology groups and directed homology groups are shown. User interaction with the developed application is described. Examples are given for creation and computing of the homology groups and directed homology groups by the developed application. The software is implemented in the environment of Embarcadero RAD Studio 2010 by C++ programming language.
Keywords:
elementary Petri net, asynchronous system, homology groups, directed homology groups, software
This work is licensed under a
Creative Commons Attribution-NonCommercial 4.0 International License